COREtec
There are many types of luxury vinyl flooring to choose from, but there's honestly nothing quite like COREtec. With its unique composition, signature cork underlay, and impressive styling, COREtec is definitely here to stay. At Thompson's Floor Covering Carpet One Floor & Home, we offer up a full line of fine COREtec flooring products. This amazing flooring family makes it possible to admire all the looks you love, while addressing your respective lifestyle and challenges.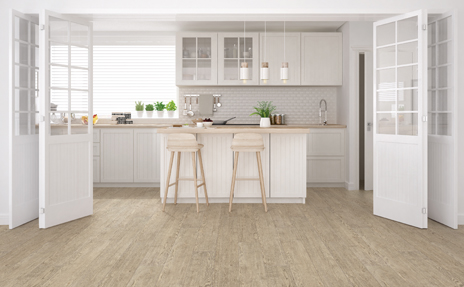 COREtec Fundamentals
Built in multiple resilient layers, COREtec is made to shield your subfloor against life's little accidents. It is soft and cushioned to walk upon, and is insulated against bothersome cold, heat, and sounds. Perhaps best of all: COREtec is 100% waterproof.
Why Choose COREtec?
More than your average luxury vinyl, COREtec truly has it all. This durable synthetic arrives ready to install, complete with a sturdy cork base that negates any possibility of any complicated subfloor preparations. COREtec's family of products features style that's ever eclectic, with a growing collection of colors, trends, and styles. There are COREtec products made to look and feel just like actual hardwood, stone, and tile. However, it's actually made from a combination of recycled wood, virgin PVC, bamboo dust, limestone, and other earth-friendly ingredients. This assures that COREtec planks will never swell up, shrink or expand from humidity – unlike their hardwood counterparts.
To learn more about COREtec luxury vinyl products, visit our showroom at 591 W. Olive Avenue in Porterville, CA or call us today to schedule a FREE onsite project consultation.